If you're setting up your online business, you're likely wondering why you should use Google Merchant Center?
Essentially, Google Merchant Center can help you do three things:
Notify Google you have products to sell
Give Google information to create a targeted ad for your products
Provide Google with information necessary to ensure Google will showcase your products to users who are the best fit for your products
To ensure Google has all the correct information to find your products, create targeted ads, and showcase your products to the right people, it's critical you upload a complete product inventory to Google Merchant Center. We recommend using automatic feeds from your website, but you can do this manually as well , making it incredibly easy.
Google Merchant Center allows you to upload straight from their own, pre-designed Google spreadsheet template.
If you're looking to advertise on Google, you should be running text and Shopping ads.
We work with tonnes of eCommerce clients and most didn't know that you can help your product rankings by setting up a free Google Merchant account.
The good news? It's super easy to set up. We are going to outline how to set up your Google Merchant Account in four simple steps.
Step One: sign-up at the Google Merchant website
Step Two: Agree (if you want) to the Terms & Conditions
Step Three: Add Your Website
Step Four: Verify Your Website By Linking Google Analytics
You're done! All set up – now you need to add your products.
How to Use Google Merchant Center
To create your Shopping ads, Google needs your product info, which you can share via a feed. Here's how to create one for your products.
Being honest, you'll use Google Ads and Analytics to manage your shopping ad bidding strategy, create advertising campaigns, and track ad performance – not Google Merchant Center. But you need to have your products uploaded to do this!
How to Create a Feed of Your Products for Google
An accurate feed of product information is a prerequisite for setting up Shopping Ads. The feed gets synced to a Google Merchant Center account.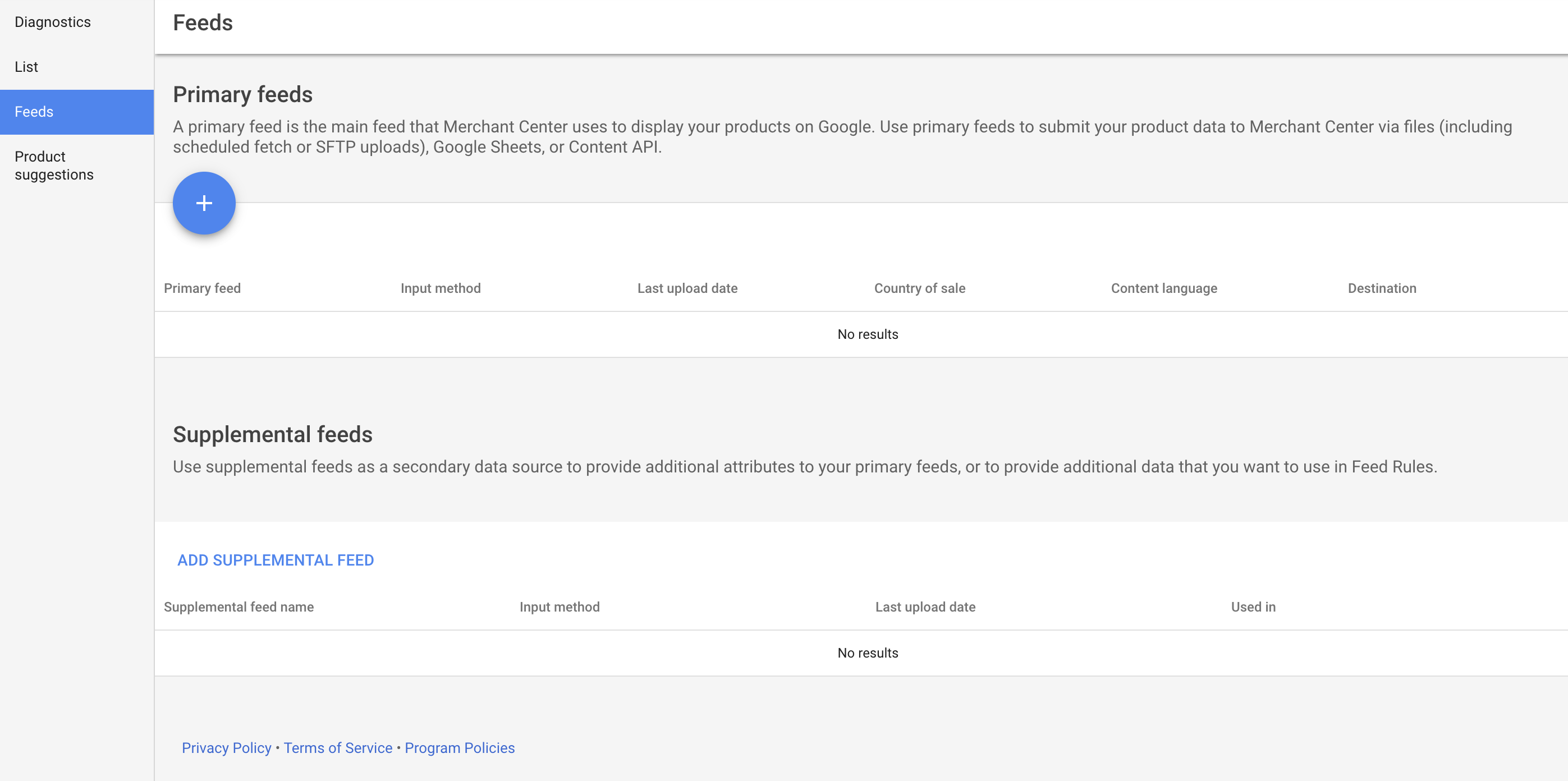 There are several required categories your Google Product should include:
For certain items, like apparel and accessories, you should include details like:
Color
Material
Pattern
Size
Gender
Overall: it's best practice to include as many attributes as possible.
Feeds are supported in two formats: plain text (.txt) and Extensible Markup Language, or XML (.xml)..txt files are plain, unstructured data files and tend to be simpler and smaller, while .xml files are stored in markup language and can contain images and other details that require not only the data itself, but also instructions on how to display the data. Read more about the differences between .txt and .xml files.
There are two methods to create your feed file:
Manual: With a Google Sheet registered in your Merchant Center account, or a .txt file exported from any spreadsheet editor
Automatic: With purpose-built WooCommerce extension that automatically creates and syncs a feed to Google
If you opt for a Sheets-powered feed, you can install the Merchant Center add-on from your spreadsheet to populate the feed, validate the product data, and upload your feed.
When it comes to extensions to create a feed, there are a couple of options available on the web. We recommend the WooCommerce Google Product Feed from the official WooCommerce.com marketplace — with four updates already this year, this extension is a solid choice and includes email support if and when you need it. It supports multiple feeds including Google, Bing, and Google Product reviews.
For the rest of this article, we'll take you through how to set up a feed with WooCommerce Google Product Feed.
WooCommerce Google Product Feed: Automated Sync
The WooCommerce Google Product Feed extension lets you choose what fields to include and the end result is a fully-automated feed containing all your product information and variations in the correct format for Google. You can also:
Add any extra data fields, as you wish, for your particular products and variations.
Set up information at a category level to apply to products in a specific category.
Set storewide defaults that apply to all products.
Here are the five steps to go from zero to running Google Shopping ads for your WooCommerce products:
Purchase and activate the WooCommerce Google Product Feed extension.
Go to wp/admin → WooCommerce → Settings → Product Feed and select the product data attributes you want for your feed:

Sign up for a free Google Merchant Center account. Follow the steps, which include pasting some code to your store's theme file to verify your URL.
Set up and fetch your feed. Add the unique feed URL from the Product Feed screen in wp-admin to your Google account. It'll look something like http://www.example.com/?woocommerce_gpf=google.
Link your Google Merchant Center account to your Adwords account, and start advertising! Remember to keep an eye on your ads and make sure they are profitable.

Leverage Google Shopping with WooCommerce
Sending a real-time feed of your products to Google makes your products more discoverable in Google searches. Alongside regular text or display ads, these super-charged eCommerce ads are proven to drive conversions and bring more of the right shoppers to your store.
To upload your product inventory, follow these steps:
1. Go to "Products" within your Google Merchant Center, then select "Feeds". Click on the big blue "+" icon to add new products.
2. Fill in Basic information, including the country you want to sell products to, and the language. This will help Google ensure your products appear to your ideal demographic, in both the language and currency most appropriate. Then, click "Continue".
3. Name your feed and choose your input method. For our purposes, I chose "Google Sheets". Then, click "Continue".
4. If you choose to upload with a Google spreadsheet, you can either choose an existing spreadsheet or use Google Merchant's spreadsheet template.
To use Google Merchant's pre-made template, I chose "Generate a new Google spreadsheet". You also have the option to select an upload schedule, i.e. daily or weekly, depending on how often you update your inventory. Then, click "Continue".
5. Within the spreadsheet, fill out the necessary columns, including "id", "title", "description", "link", "condition", "price", "availability," etc. Be as specific as possible, especially in the "description" column, to ensure your products are correctly advertised.
6. When you're finished and ready to import, go to "Add-ons", "Google Merchant Center", and then "Upload sheet".
If you're unsure of what any of these columns mean, such as "id" or "gtin", take a look at Google's Product Data Specification page for details.
It's important to note, what you type into your inventory is exactly what will appear when a user clicks on your product in Google Shopping, so it's critical the information is both specific and accurate. You'll want to make sure information such as "price" matches exactly what is on your website.
For instance, here's how a spiralizer appears in Google Shopping, with a full description, price, and title that matches the information on the product's website.
How to Make Changes to Your Merchant Center Product Feed
If you need to make changes or update your feed (i.e. inventory), you don't have to register or upload a new spreadsheet. Instead, you can use "supplemental feeds", which allow you to provide additional data that can be integrated with your existing data in the primary feed.
A supplemental feed can't be used as a standalone feed — instead, its purpose is to update existing product data in your primary feed, so you don't have to create a new primary feed every time your inventory information changes.
To create a supplemental feed, go to the "Feeds" section and click "Add a supplemental feed". Follow the prompts and provide information including your supplemental feed name, input method (i.e. Google Sheets, Scheduled fetch, etc.), which primary feed you want to link to, and a scheduled fetch for your product data so you don't need to manually upload it.
Alternatively, you might use Feed rules to resolve errors or help Google Merchant Center correctly interpret your primary feed's data, if it seems it isn't working or needs to be adjusted.
To do this, go to the "Feeds" section, click the feed you want to fix, and select the "Rules" tab. Choose the country to which you want to apply the rule (if you have more than one country of sale), then click "Create Rule".
Finally, select the attribute you'd like to impact, configure your data sources, and click "Save as draft". Then, select "Test changes" to ensure you've made the correct changes to your product feed. If you're happy with the changes, click "Apply". If you don't want to apply the changes after all, click "Discard".